Home
– Don't miss our –
Memorial Day Program – Monday, May 30th 2016 starting at 11:00 A.M.
A Memorial Day ceremony at the Stillwater Veterans Memorial will begin at 11 a.m., Monday, May 30th to honor St. Croix Valley area casualties of war with a wreath laying ceremony recognizing the fallen from each of the branches of the armed forces. The ceremony will include music by the Stillwater Wind ymphony and the Croix Chordsmen, as well as a T-6 Thunder Flight Team flyover and a rifle salute by local Veterans of Foreign War members.
The guest speaker for this year's event is Minnesotan Pete Hegseth, an Army veteran of the wars in Afghanistan and Iraq, a frequent national news contributor, and author of the recently released In the Arena: Good Citizens, A Great Republic, and How One Speech Can Reinvigorate America. Additionally, this year's wreath laying ceremony includes special recognition of Private First Class, Douglas Carroll Merrill, U.S. Army, a former Stillwater High School student who was killed in action on August 18th, 1969 while deployed to Vietnam, and recently added to the memorial's Wall of Honor.
The Stillwater Veterans Memorial is at Third and Pine Streets in Stillwater. Bring lawn chairs for seating. Beverages and refreshments will be provided, courtesy of Cub Foods, Kowalski's Markets, Starbucks, and Culvers. Media support is provided by Johnny's TV and Valley Access Channel.
_____________________________________________________________________________
Benefit Dinner Cruise on the St. Croix River – Monday, August 15th 2016 boarding at 4:00 P.M.
Signup and additional information
_______________________________________________________________________
Print now available by award winning artist Randall Raduenz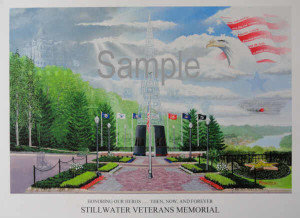 Prints of a recently completed painting of the Stillwater Veterans Memorial by award winning artist Randall Raduenz are now available for purchase.  The prints are 16″ x 20″ and have a  12″ x l6″ picture image area.  Each print is personalized with an actual photo image of the granite paver or pavers of the purchaser's choosing for attachment and display on the print at noadditional cost.  A personalized Certificate of Recognition and Authenticity along with the detailed history, symbolism, significance and meaning of the elements, images and partially hidden images of the painting are also provided. All prints are in limited edition, personally signed and numbered by the artist. More Info