13th Annual Benefit Cruise in Stillwater Honors WWII Veterans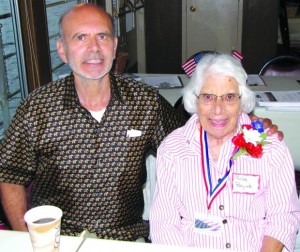 Rose Bayuk, above right, was honored during the 13th annual Stillwater Veterans Memorial benefit dinner and cruise Aug. 17. Now 100 years old, she served as a World War II U.S. Army nurse and made 24 crossings of the Atlantic to bring home wounded soldiers. (Photo by Suki Thomsen)
The evening of Aug. 17, the 13th annual Stillwater Veterans Memorial benefit dinner cruise was held on the Andiamo Paddlewheel Boat on the St. Croix . On board were a total of 78 WWII veterans from throughout the area who were guests of honor and recognized as a group along with WWII Pearl Harbor survivor and U.S. Ward sailor Dick Thill, who spoke of his experiences on the Ward. A total of 451 people attended the event.
Dave Carlson, U.S. Navy Vietnam veteran and committee member, told the attendees of the willing commitment of the young men and women of our greatest generation who came to the aid of our nation from all walks of life in the time of our nation's greatest peril. He said they did what was needed to free the world of tyranny and returned home to raise families and lead the nation through decades of post-war prosperity.
In recognition of all WWII veterans, Rose Bayuk, U.S. Army nurse, who made 24 crossings of the Atlantic bringing home wounded from Italy, France and North Africa, was presented with a corsage for service to other veterans and being the oldest attendee at age 100.
Dave Ratte. US Navy Capt. (Ret.) and committee member, set the scene in Hawaii for the start of WWII and the Dec. 6, 1941, attack on Pearl Harbor. He related the WWII experiences of Dick Thill, whose ship fired the first shot in defense of Pearl Harbor, which sunk a Japanese submarine entering the harbor that day. (The cannon of the U.S. Ward that fired those first shots of WWII is presently on display on the state capital). Later in the war Thill traveled in a convoy that took President Roosevelt to Malta and then on to Yalta.